Captain of the season
CAPTAIN WILLIAM DAVIES 1865 - 1926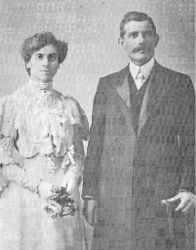 Born in 1865 at Fron, Nefyn, to Hugh and Ellin Davies, William began his life at sea in 1881 and served on the 'Agnes', 'Unicorn', 'Arabella', 'Queen of Cambria' and 'Eivion' as OS and AB until he passed his 2nd Mate certificate in 1886. Much of his knowledge was gained from the teachings of Hugh Davies the Nailer, of Nefyn, who taught the elements of Navigation. William Davies continued on the 'Eivion' as 2nd Mate and again as 1st Mate after passing his 1st Mate certificate in 1889. His gained his Master Mariner's certificate in 1891. Thereafter, he served as Captain on the 'Gwrtheyrn Castle' and 'Gwydir Castle' from 1894 to 1914, sailing to Australia and South America.
He had one brother, John, who emigrated to Australia and two sisters, Jane Mary who married Captain John Williams of Nefyn, and Annie Verona. The family lived in Victoria Terrace, Well Street, Nefyn.
William married Grace Ellen Owen, a schoolteacher and a settsmaker's daughter of Pistyll. They married in Capel Soar, Nefyn on the 14 November 1905 and had a daughter, Ellen Gwyneth and two sons, John Ifor and Gwilym Hugh, their homes being in Brynhyfryd and later, Craig y Mor, Nefyn.
John Ifor Davies wrote a personal history of his family and his life in Nefyn in the book 'Growing Up Among Sailors'. Two incidences in the book mark Captain William Davies' strength of character. The first when he saved a crewman's almost severed fingers by stitching them back himself while out at sea and the second when he himself had an accident to his throat and needed to have the deep gash stitched. This he did himself when others shied away from the task.
During WWI, William commanded the 'Belford', which was sunk by enemy action in 1917 after the U-boat commander ordered the crew to leave the ship and get into boats. The boats were tied together and to the U-boat, and if the rope had not broken, the U-boat would have dragged them all with it to the depths of the sea.
In 1917, William took command of the ship 'Monkbarns' of the John Stewart fleet, sailing to Australia and South America and it was there he died on the 30 March 1926 at the Strangers Hospital, Rio De Janeiro, Brazil. His ailment is unknown but he had not been able to eat much for two months and had carried out his duties only because of his strong will. He was buried at the Cemiterio Dos Ingleses in Rio, in a grave that was organised and tended by two good friends, Captain Griffith Jones of Pwllheli and Captain John Roberts of Criccieth.
An obituary written by the Bishop of the Falkland Islands finished with the words '… was as fine a skipper as ever trod a ship's deck…'

Details of his ship, the 'Monkbarns' is featured in our SHIP OF THE SEASON article and information on a chronometer, similar to one he would have used, is featured in our ARTEFACT OF THE SEASON article.